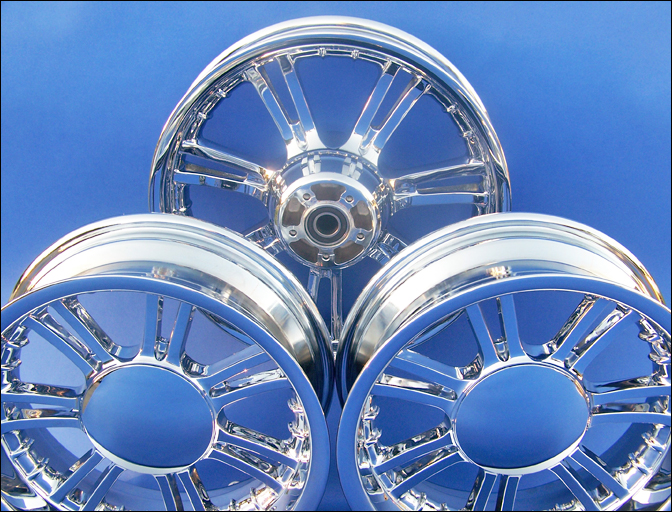 TRI GLIDE CHROME WHEELS 2009-2022 TRIKES - 1175.00 with front wheel bearings installed.
This is an exchange program - we send you these gorgeous triple plated chrome wheels and you have 30 days to send us your take offs.** Before we chrome plate our front wheel, we radius the front hub removing the sharp corner which prevents exessive chrome buildup allowing your break rotors to run true.  These wheels look real sharp when they are done up in bright chrome and complimented with our '' Baby Moon " hub caps and matching air cleaner screws and cam timer covers. The '' Baby Moons '' are NOT cheap plastic imported from China or Taiwan . They are made from T6061 billet aluminum, polished to a mirror finish before the copper, nickel and chrome is applied. The retainer springs are heat treated stainless steel.
The wheels run 1175.00 for the set of 3.  Shipping is approximately  90-120.00  one way, depending on zip code.
The "Baby Moon" hub caps run 189.00.00 a set. These babies change the look of these wheels dramatically! They blast the chrome reflection in all directions and make the wheels look deeper in appearance. Why buy high dollar aftermarket wheels when you can get a look like this at less than half the price.
Don't forget our cool wheel spacers that hides the rotor bolts and bearings on the front wheel.
* We do not charge a core charge up front - only if do not receive your cores back within 30-45 days after you get your chrome wheels.  Usable cores. No previously  chromed cores accepted.