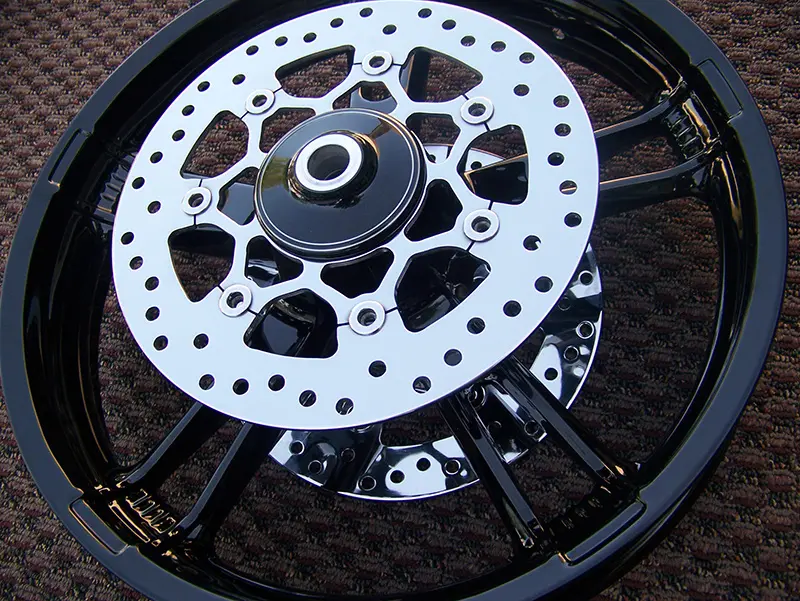 2015 - 2019 FREEWHEELER WHEEL SET GLOSS BLACK POWDER COATED 845.00 A SET
Exchange your factory wheels for these WILLY SHINY gloss black powder coated wheels.
We take factory '' Enforcer " wheels, strip, sand and polish just like we do on our chrome wheels - then apply the high gloss UV resistant powder coat.
The front wheel will have new '' ALL BALLS RACING "  bearings, that is the manufacture we use.
Check out the video from thebaggerblog.com about our powder coating process.
Read the article here: http://thebaggerblog.com/product-spotlight-black-enforcer-wheels-by-willy-shiny/
The price is 795.00 a set plus shipping. We also carry powder coated forks for 260.00 and upper fork covers (cow bells) for 60.00 exchanged.
WILLY SHINY is the first to introduce '' Baby Moon " hub caps for the trikes back in 2009 and they are still a hit. You can get them in black or chrome for 189.00 a set. We also make the cool wheel spacers that hide the rotor bolts for 2015-2018 run 95.00 a set, and new for 2019 ABS run 119.00. Can be purchased in chrome or black.
Polished rotors are 85.00 each on exchange.
We take great pride in our products and stay ahead of our competition by giving you the best quality and value for your money.
* We chemical strip the existing powder coated finish that is applied at the factory.
* We sand smooth all rough castings and polish the wheel as if we are chroming.
* We mask off all bearing registers and rotor surfaces.
* We chase all rotor bolt threads so they reinstall with no issues.
* We do not charge a core charge up front - only if we do not receive your wheel cores back within 30 days after you have received yours.