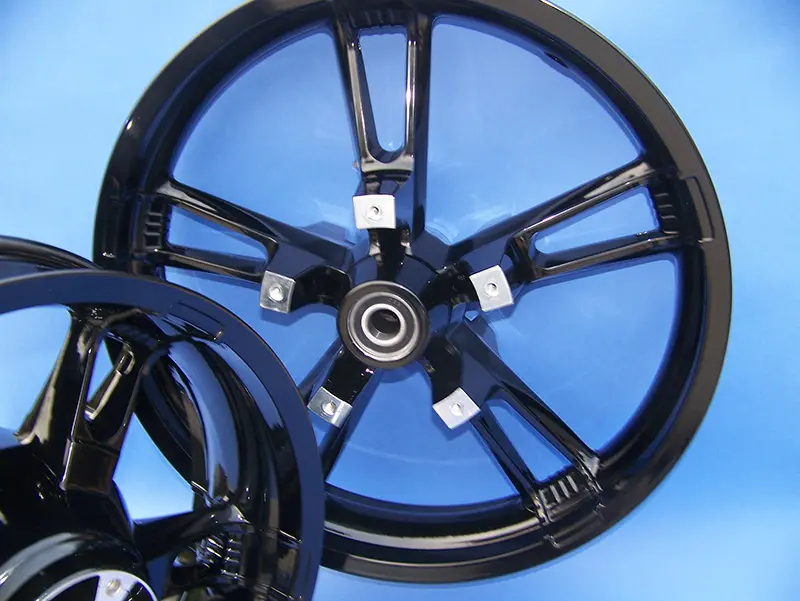 2014 - 2019 STREET GLIDE * ROAD GLIDE WHEELS * IN GLOSS BLACK POWDER COATED FINISH 795.00
Exchange your factory wheels for these gloss black powder coated wheels from WILLY SHINY.
We take factory "Enforcer " wheels and strip them , sand out all the rough castings, and polish them as if we were chroming them. We make sure all sharp edges are rounded so the finish is not thin on the corners -  this is why our wheels look so smooth! These wheels come with the bearings installed, we use "ALL BALLS RACING BEARINGS " just let us know if your bike is ABS equipped.
Check out the cool '' BAGGER BLOG " video
The price is 795.00 plus shipping for the set of wheels , we also carry gloss black forks at 270.00 set , pulleys are 200.00 with new bearings installed, We do the Brembo calipers in all gloss for 300.00 for the front set, or black with chrome screens and bolts .
We carry polished rotors at 70.00 each.
WILLY SHINY is the original designer of the wheel spacers to compliment the new style open rotor wheel and we powder coat them in the same finish as the wheel .
Our wheel spacers are held to tight tolerances and really enhance the appearance of the wheels, the price is 89.00 a set . Matching axle caps starting at  49.00
We take great pride in our products and stay ahead of the competition by giving you the best quality and value for your money.
*We prep our powder coated wheels the same way we do our chrome wheels by polishing them first .
* We plug off all bearing registers so that no bead blasting takes place in this area - which can cause loose bearings .
* We mask off bearing and rotor surfaces .
* We do not anodize our wheel spacers - we powder coat them .
*We do not charge a core charge up front - only if you do not return your cores back within 30 days after you receive your black wheels .