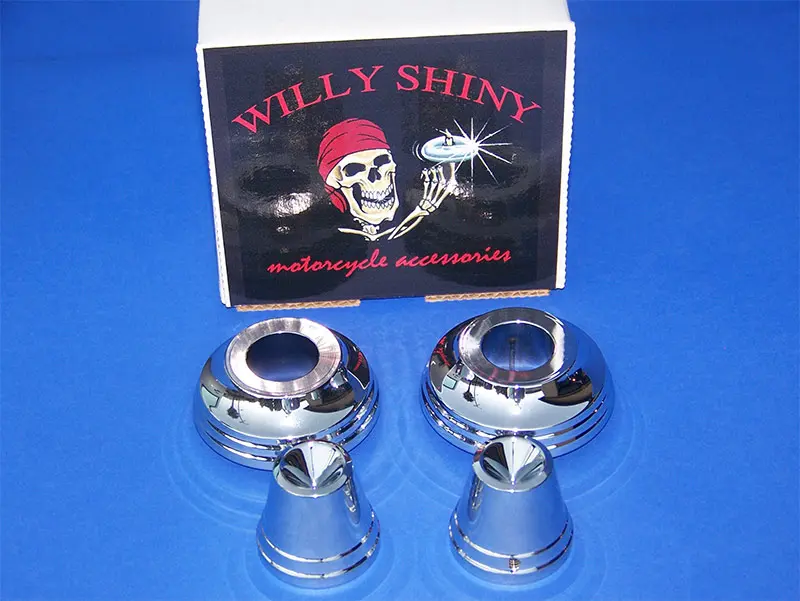 MAD WHEEL REINFORCER 21" WHEEL SPACERS
WILLY SHINY has been making wheel spacers since 2005 our quality is second to none !
If you are putting a MAD WHEEL "REINFORCER" 21'' front wheel on your bike these wheel spacers will do the trick !
We designed our wheel spacers to work with all Touring Model fork legs from 2000 to present . If your bike is a 2000 - 2007 it's best to change the axle to a 25mm 2008 and later axle , and go to the Brembo calipers found on 2008 and later with 11.8 rotors .
The cost is 79.00 bucks for the wheel spacers and matching axle caps are 59.00 - we make them in Non ABS or ABS equipped bikes as well as gloss black powder coated finishes too !
We stay ahead of the competition by giving you a great quality product at the best value for your money .
* We put a lot of thought in the design of our wheel spacers - our tolerances are tight with no large gaps between the spacers and the wheel , the fork side of the wheel spacers are the same diameter of the boss on the fork legs which lines up perfect .
* We don't need any set screws on our abs wheel spacers - they fit that well !
* We use one 10 - 24 set screw on our axle caps that is out of sight when pointed down .
* We have several styles of axle caps that fit 2000 - 2017 Touring models and they all compliment the wheel spacers .
Give us a call at 909 815 4139 to order .