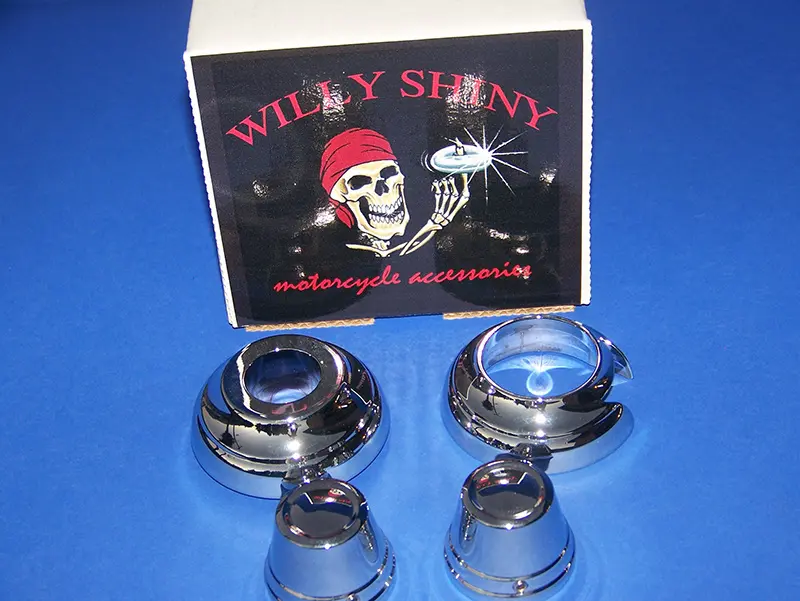 2014 - 2019 WHEEL SPACERS AND MATCHING AXLE CAPS FOR * ROAD KING * ULTRA LIMITED * ULTRA CLASSIC TOURING MODELS 128.00 ** can be sold seperatly at 89.00 for the spacer set and 49.00 for the axle caps
These wheel spacers were designed to fit the 2014 - 2017 factory " Impeller " touring front wheel . We pay attention to detail and these cool wheel spacers and matching axle caps compliment the lines of the Impeller wheel .
Made in the USA from billet 6061 aluminum and polished to a mirror finish before the triple plated show chrome finish is applied . Also available in powder coated finishes too !
Available in ABS or non ABS equipped bikes .
We take great pride in our products and stay ahead of the competition by giving you the best quality and value for your money .
* We designed the spacers to flow with the lines of the wheel with a step in the radius then reversed the radius to clear the angle of the fork leg .
* We make the spacers and axle caps the same diameter  as the fork legs so they look like they were made for your bike .
* Our tolerance are so tight there are no large gaps between the wheel and the spacers . The ABS spacer fits so well over the sensor there is no need for a set screw .
* Our axle caps are inline with the spacers and the design is well thought out to make your bike look great !
* We use one 10 - 24 stainless steel  set screw on the bottom of our axle caps that does not show when the cap is installed .
Give us a call at 909 815 5376 to order .