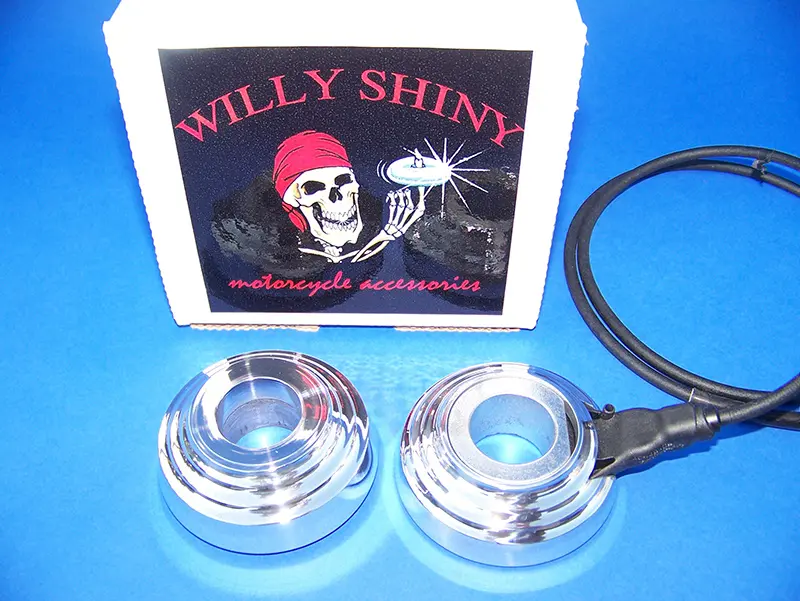 2014 - 2019 WHEEL SPACERS FOR FACTORY ENFORCER WHEELS 89.00 SET
WILLY SHINY Wheel Spacers for the factory ''Enforcer " wheels are second to none in appearance and quality . These new open rotor Enforcer wheels were introduced in the Summer of 2013 and we were the first to design the wheel spacers that compliments the angles of the tapered hubs . We ran into a slight problem with the outer portion of the tapered hub - the hubs vary in diameters . Our solution to this was step the spacers in graduations so it appears like the hub steps down gradually  to the fork legs . A sharp clean look that will definitely set your bike apart from the rest We make them for ABS equipped bikes as well as non ABS models .
Made in the USA from billet aluminum and polished to a mirror finish before the beautiful triple plated show chrome finish is applied . .
Also available in gloss black powder coated finishes .
We take great pride in our products and stay ahead of the competition by giving you the best quality and value for your money .
* Our tolerances are tight with no large gaps between the wheel spacers and the wheel hubs .
* We make the spacers in 2 different outside diameters and match them as close as we can to the wheel hubs to give you the fit possible .
* Our ABS covers fit so well over the sensors their is no need for set screws .
* We designed the small side of the spacers to be the same diameter as the boss on the fork legs so it looks like they were made for it .
* We make matching axle caps in several styles that looks great with the wheel spacers .
Give us a call at 909 815 4139 to order .