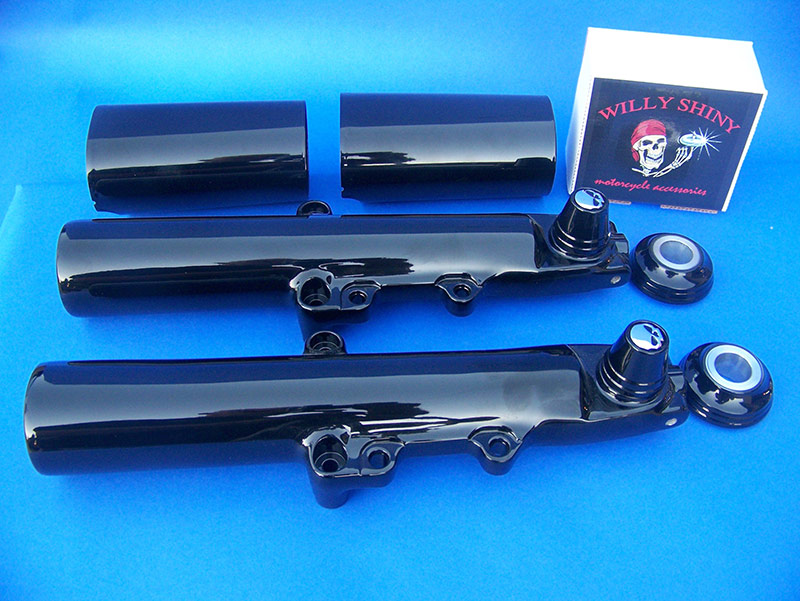 2014-2022 TOURING FORKS BLACK
Exchange your factory fork legs for these gloss black powder coated WILLY SHINY forks.
We prep our powder coated fork legs the same way we do our chrome forks - we strip, sand and polish them before we send them to Concept Powder Coating in Rancho Cucamonga, California.
Check out the cool Youtube  video about our black wheels and forks and you'll see the quality.
The forks run 260.00 exchanged, upper fork covers (cowbells) are 50.00 a set. We also have various wheel spacers and axle caps in powder coated finishes too!
Your fork cores must be factory forks that have not been previously chrome plated or powder coated. Usable cores, NO DAMAGES.
We take great pride in our products and stay ahead of the competition by giving you the best quality and value for your money .
* We sand off all rough castings and polish the forks smooth .
* We hone the inside of the forks
* We chase the threads for the pinch bolt
* We remove the powder coating from the back side of the forks where the calipers attach - this really important !
* We do not charge a core charge up front - only if you do not return yours within 30 days. A 100.00 core charge applies for non-return of your cores.
Give us a call at 909 815 5376 to order .