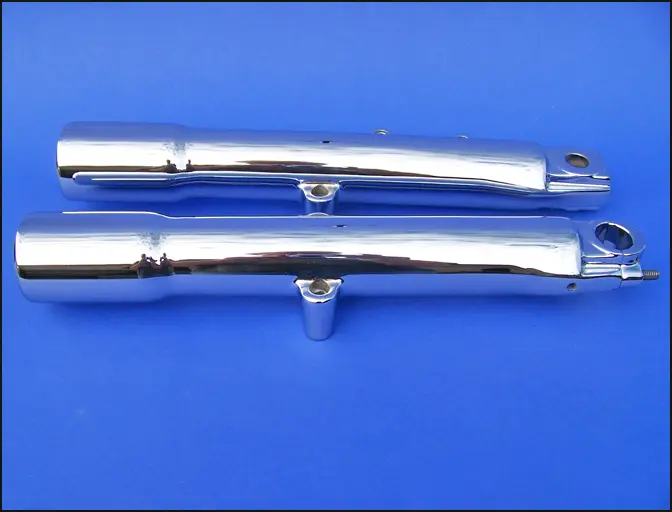 CHROME FORKS LEGS SOFTAIL MODELS 2000 - 2006 3/4'' AXLES, 2007- 2017 25MM AXLES AND 2018 - 2021 25MM SCREW IN AXLES
Change out those boring, dull factory legs for a set of our ''WILLY SHINY " chrome plated sliders. They are stripped, sanded, and polished before a beautiful triple plated chrome finish is applied.
The price is 270.00 for the pair. Price includes James Gasket chrome drain screw plug and rubber "O" ring. This is an exchange programe, there is no up front core charge. A core charge of 100.00 applies only if  they are not returned within 30 days. NO DAMAGED cores, no previously plated or powder coated, must be in usable condition and cores must be the same model as the ones we send out.
For the 2018 and later models, we have a variety of axle caps. (slides thru the axle)  We also carry Heritage, Deluxe, Fatboy, Breakout and Softail slim fork models. Inquire within.
To order call toll free 1 909 815 4139