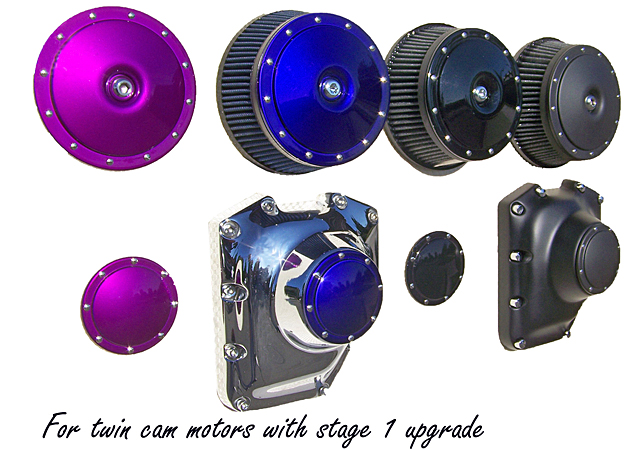 RIVETED EDITION AIR CLEANER END COVER AND MATCHING CAM TIMER COVER FOR TWIN CAM MOTORS
Something new from WILLY SHINY !  If you've got a stage 1 upgrade and want something different than the factory oval air filter cover then check out these cool covers offered in flat black , wrinkle black , and gloss black powder coated finishes adorned with hand polished stainless steel rivets that will defiantly set your bike apart from the rest . We also have matching cam timer covers that are very unique in which there are no visible screws - just rivets !  We can also do them in colors, or send them to you unfinished so you can match your paint , then return to us to have the rivets installed .
The filter end cover measures 5 1/2 inches in diameter and will fit on the end of many styles of air filters with a 5/16 mounting hole in the center . They were designed to use the factory button head Allen screw (not included) that's found on most twin cam motors . They run 89.00 and 5.00 shipping in the United States .
The cam timer covers are for twin cam motors 2001 and up and features hidden screws by means of a special adapter plate that's very simple to install . The cam timer covers run 89.00 and 5.00 shipping in the United States .
Give us a call at 909 815 5376 to order
RIVETED AIR CLEANER END COVER