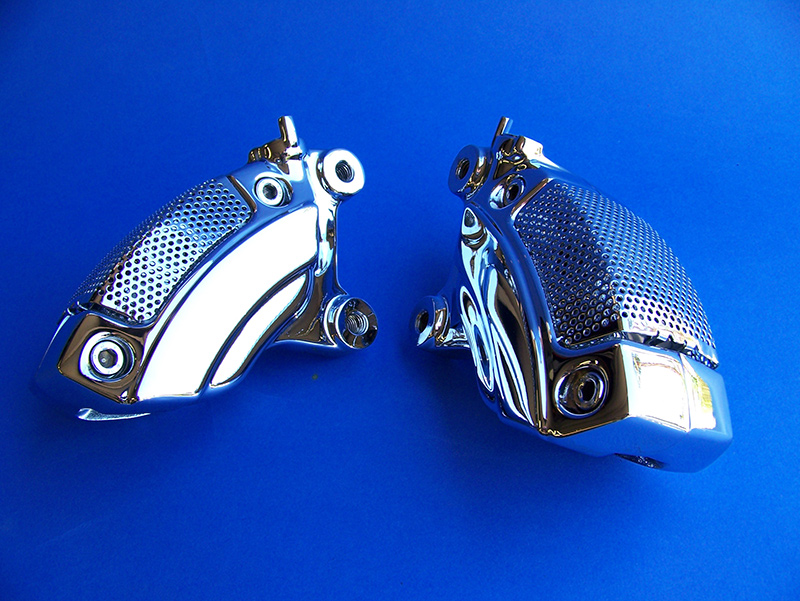 CHROME CALIPERS FOR 2008 - 2023 TOURING MODELS 425.00
Exchange your factory '' Brembo " calipers for these beautiful triple plated show chromed WILLY SHINY calipers. We take the 2008 and later calipers and modify the face of them by milling off the factory logo and a new radius on the edges giving them a new look that will set your bike apart from the rest .
They are sanded and polished to a mirror finish before the triple plated show chrome finish is applied . They have a 2 year warranty against peeling or flaking .
Watch  the cool YouTube video on; thebaggerblog.com  and you'll see what we do to them.
The price is 425.00 a set plus shipping . We also carry the rear caliper and bracket and bolts for 240.00.
Also available is '' Diamond Engineering 12 point stainless steel caliper to fork bolts - call for prices .
We take great pride in our products and stay ahead of the competition by giving you the best quality and value for your money .
* We hone out piston bores so there is no chrome buildup .
* We surface the caliper halves so they bolt together without the chrome lifting on the edges .
* We remove the lettering on the bolt heads
* Assembled except for your brake pads and pins
* We do not charge a core charge up front - only if you do not return your cores within 30 days after receiving your chrome ones .