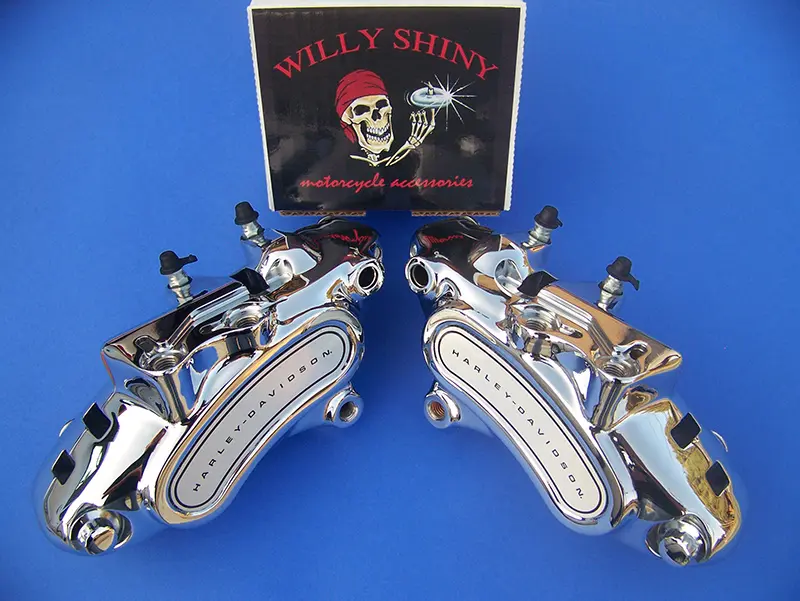 2014 - 2018 FREEWHEELER AND TRI GLIDE CALIPERS 425.00 A SET -*2019-current MODLES WENT BACK TO BREMBOS 425.00 A SET
Exchange your Trike calipers for these WILLY SHINY chrome calipers .
We take these new 6 piston factory calipers and mill the face the sand and polish them before the beautiful triple plated show chrome finish is applied .
They come with a 2 year warranty against flaking or peeling.
The price is 425.00 a set plus shipping . The 2019 modles to current went back to the Brembos, those run 425.00 a set plus shipping. We also carry Tri Glide and Freewheeler fork legs , and chrome wheels too! 
We take great pride in our products and stay ahead of the competition by giving you the best quality and value for your money .
* We clean and inspect all piston bores and check for proper fitment be assembly.
* We surface the caliper halves to remove chrome buildup so they bolt together flush .
* We replace the factory logos with new ones .
* We radius the bolt heads
* Assembled and ready to go - all you need is your brake pads .
* 250.00 core charge for any non-return cores. Usable cores ann not been reviously chromed cores accepted.